The Gateway
Dental Practice
The Gateway Dental practice Abergavenny is an NHS dental practice
NHS Dental Practice Abergavenny
We are an extremely busy NHS dental practice within the scenic market town of Abergavenny.

Established in 2007 we are, and always have been, committed to providing NHS dental services in the best interests of our patient's health and wellbeing.
We have a mixed skills team with dedicated dentists, dental therapists, and hygienists with over eighty plus years of experience combined.
We encourage career progression training many dental nurses, decontamination assistants and provide the opportunity for our dental nurses to gain extra qualifications such as radiography, sedation, and oral health education.

We support all employees to continue their professional development so that we can provide the highest level of care for our patients.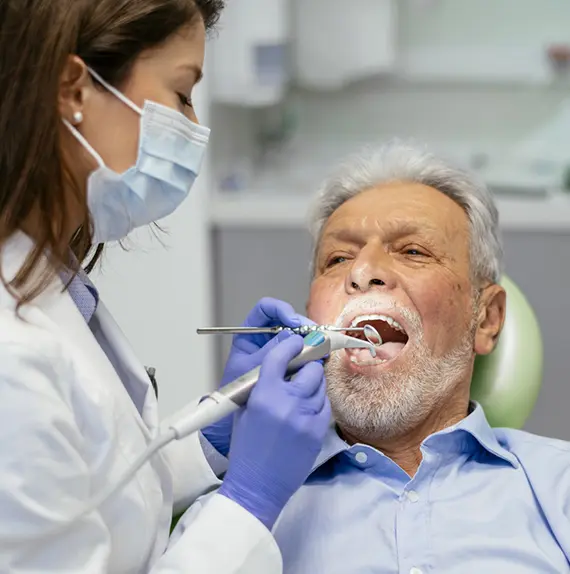 Our business structure was the first of its kind within Welsh dentistry, becoming a co-operative in 2016 with five directors at the helm to ensure that all employees share the benefits of the business. The practice principal and managing director George Warmisham is accompanied by our other dentist James, our dental therapist Kath and our two lead nurses Stacey and Stephanie. The structure of the business is very similar to that of John Lewis.
Historically we always accepted new patients but due to the restrictions of the NHS dental contract we are no longer able to. We will always see children under four years of age, whether the parent/guardian is a patient of the practice, children under five years of age if the parent/guardian is a patient of the practice and if you are a foster carer who is already seen at the practice, we will take on any child within your care. We regularly review our availability and hope within the future we will be able to offer new patient appointments once more.
We offer our current patients a small private list, please ask your dentist if you are suitable. You can find more detail of the private treatment we provide here.
We pride ourselves on our friendly and supportive team with many employees having stayed at the practice since it was opened. We understand that for many visiting the dentist it is a traumatic and upsetting experience, please understand you are in full control, and we are here to support you. 
As a sedation practice, we have years of experience dealing with anxious and phobic patients and there are lots of things we can do to help make it a better experience for you.

Unfortunately, we do not have any parking available at the practice but there are three car parks nearby….

If you take any medication, please make sure that your dentist is aware of this….

We unfortunately don't have on site parking. There are two car parks nearby….
Treatment of your mouth begins here
Contact us any suitable way and make an appointment with the dentist whose help you need! Visit us at the scheduled time and get your treatment.
Great practice, my husband has a phobia of dentists and hasn't been for years but they were fab and he's finally had some dental work which is a real achievement !!
I along with my daughters have been coming here since it has opened, what a fabulous service we've had over the years. We would highly recommend this practise
Excellent service staff very professional, dentist was patient and very professional absolutely recommend this dental surgery to anyone.